Josh Hyde's Bowling Accomplishments
1986: I met Mike Aulby and Earl Anthony in the same weekend. Mike gave me two signed shirts and two signed pictures. Earl signed a picture for me.
1987: I went to my first PBA Tournament in Indianapolis. Since then, I have always attended PBA Tournaments that are held in Indianapolis. That was one to two days or all week. I also met Marshall Holman and Mark Roth.
1989: I started to watch the PBA Tour on a weekly basis and started getting into the PBA Bowling. I went to my first Hall of Fame Banquet and met Dick Weber.
1990: I went to my first major tournament, which was the U.S. Open; I met Parker Bohn III and Tony Westlake. I was getting to know the pro bowlers and becoming friends with them. I got my first bowling ramp from Parker Bohn III and a plastic bowling ball made by Brunswick.
I got my first High Performance bowling ball, which was a Red Hammer. Tom Crites gave it to me as a gift. I went to my first PBA Senior Tournament and met Don Johnson. I also met Jimmy Certain.
1990-1996: From 1990 to 1996 I was at the U.S. Open from one to two days or all week, once a year.
1991: I did a tip of the week on ramp bowling and went to my first TV show. I also bowled in my first Pro Am. While competing, I bowled a strike in my first frame and everyone clapped for me. Tony Westlake and Parker Bohn III each gave me a shirt with their names on the back. Chris Warren gave me a Blue Hammer Pro Staff towel and an Ebonite glove. Jimmy Johnson also gave me an Ebonite glove. Parker Bohn III introduced me to a pen pal named Larry Stella. Larry loves bowling. I also wrote a letter to Sports Illustrated For Kids and sent a picture of a bowling pin that was shaved into the back of my hair all of which was put into the magazine.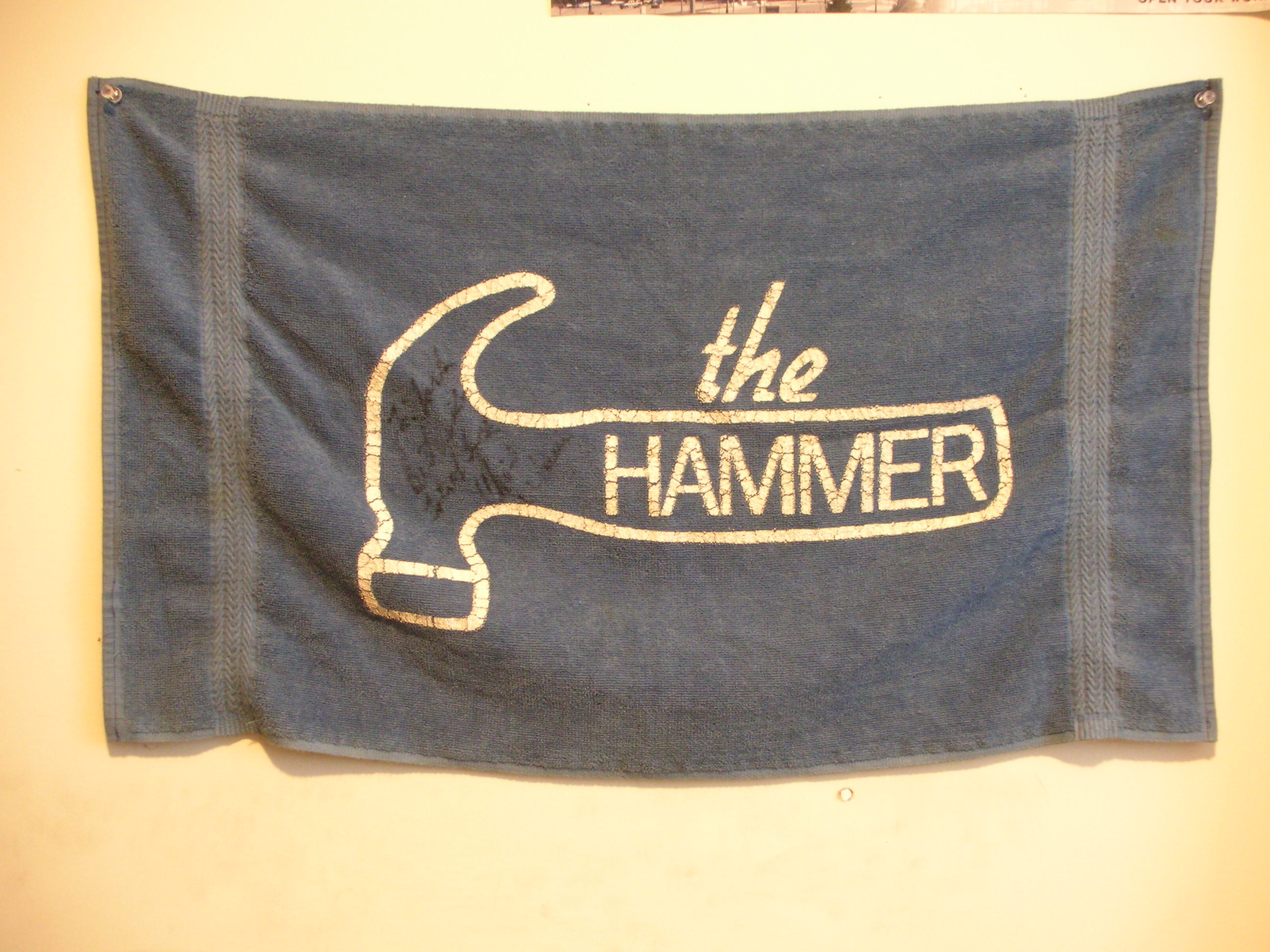 1992: I went to my second and third major bowling tournaments and they were at the PBA National Championship in Toledo, Ohio. The Touring Players Championship was held in Indianapolis. I got to meet Nelson Burton Jr. and Larry Lichstein.
1993: I started to bowl in league tournaments. I won my first tournament with Nick Gates. I met Team U.S.A. Coach Fred Borden when I went to my first bowling clinic. I met Mike Shady and became good friends with him. My second time on TV was when Parker Bohn III and Jason Couch were bowling for the Touring Players Championship title. I got my second High Performance bowling ball which was a Purple Rhino Pro. I got my first shirt with my name on the back. I saw my Dad qualify third at a PBA regional. He didn't do anything big on Sunday, but he beat the top names, like Eugene McCune and Scott Devers.
1994:I bowled in my first city tournament my first game was a 216 in the tournament and I ended up shooting a 540 for three games. I got my first article in the PBA program when Jason Couch won the 1993 Touring Players Championship. I got to sort out tv shirts for Brunswick at the 1994 U.S. Open with Parker Bohn III and Nick Gates. I bowled my high game at Holiday Bowl which was a 237. I became friends with Walter Ray Williams Jr. I bowled a 560 series and my games were 160, 180, and 220. I made the 6-7-10 split in the tenth frame of my third game. My Dad and I won back-to-back junior adult no-tap tournaments. I went to my first Brunswick world team challenge.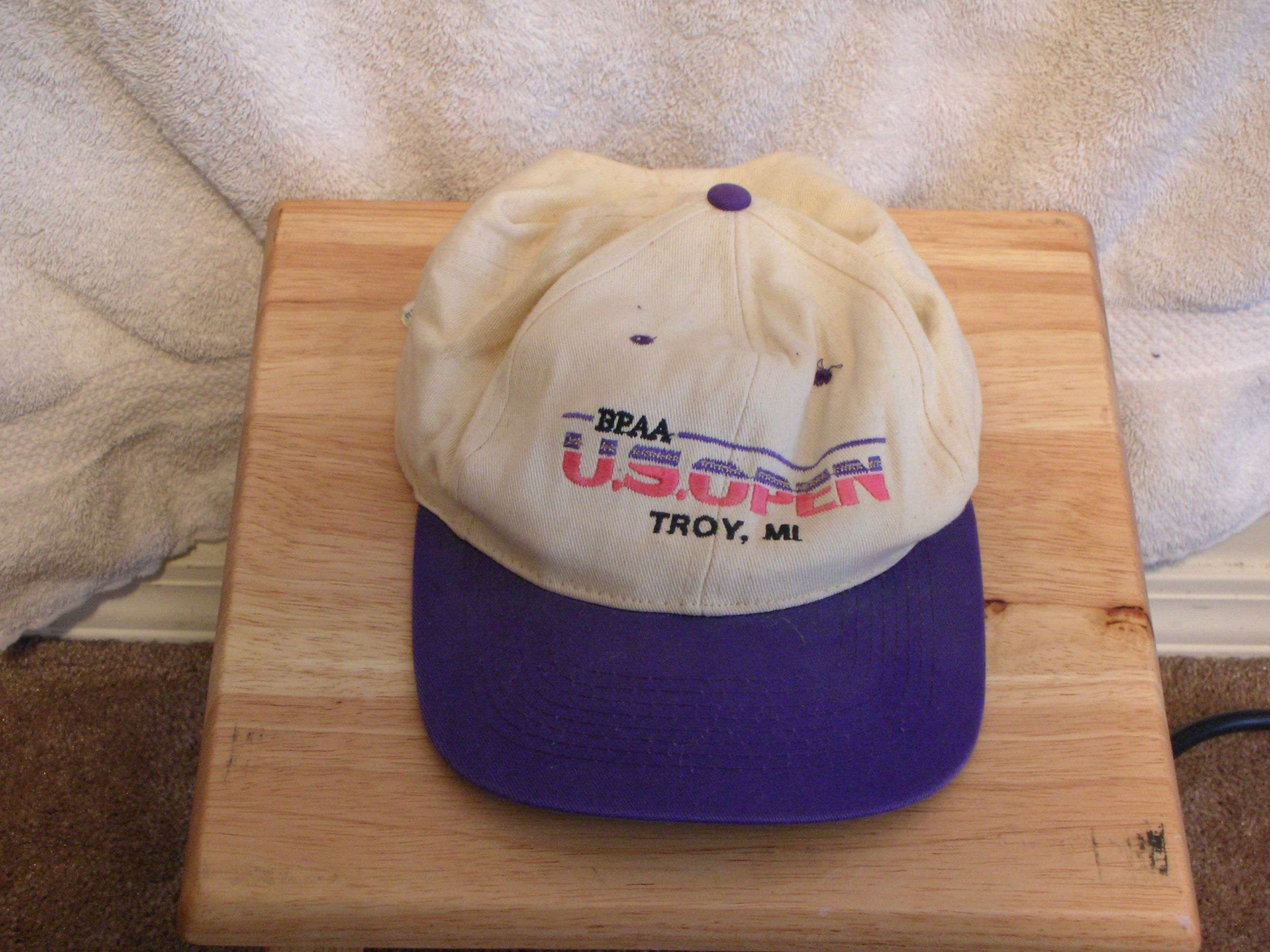 1995: I went on a two-week PBA tour swing. I went to the BPAAUS Open for the championship round and there were 10,000 people at Joe Louis arena. That remains the record for the most people ever in an arena setting while at the US Open finals. I got my first pro staff shirt, which had a bigger logo on it, so that when the bowlers were on T.V. the audience could see the logo on the shirt. While I was on my two-week swing, I got to see the PBA office in Akron, Ohio. I also got to see where the "Tournament Of Champions" was for years and years. While in Akron, Fred Borden helped me with my bowling game. I made my first bowling board game and I took it out on tour and I beat the pros at the game. I got my first high-tech bowling ramp. I went to a T.V. finals where I was able to give my favorite bowler a high five when they introduced him for the t.v. show. I went to a total of three full weeks of PBA tour. I played in the first team Fantasy team bowling and got player of the week twice in two different games in two different segments. First one I placed 24th and the second one I placed in the top fifty.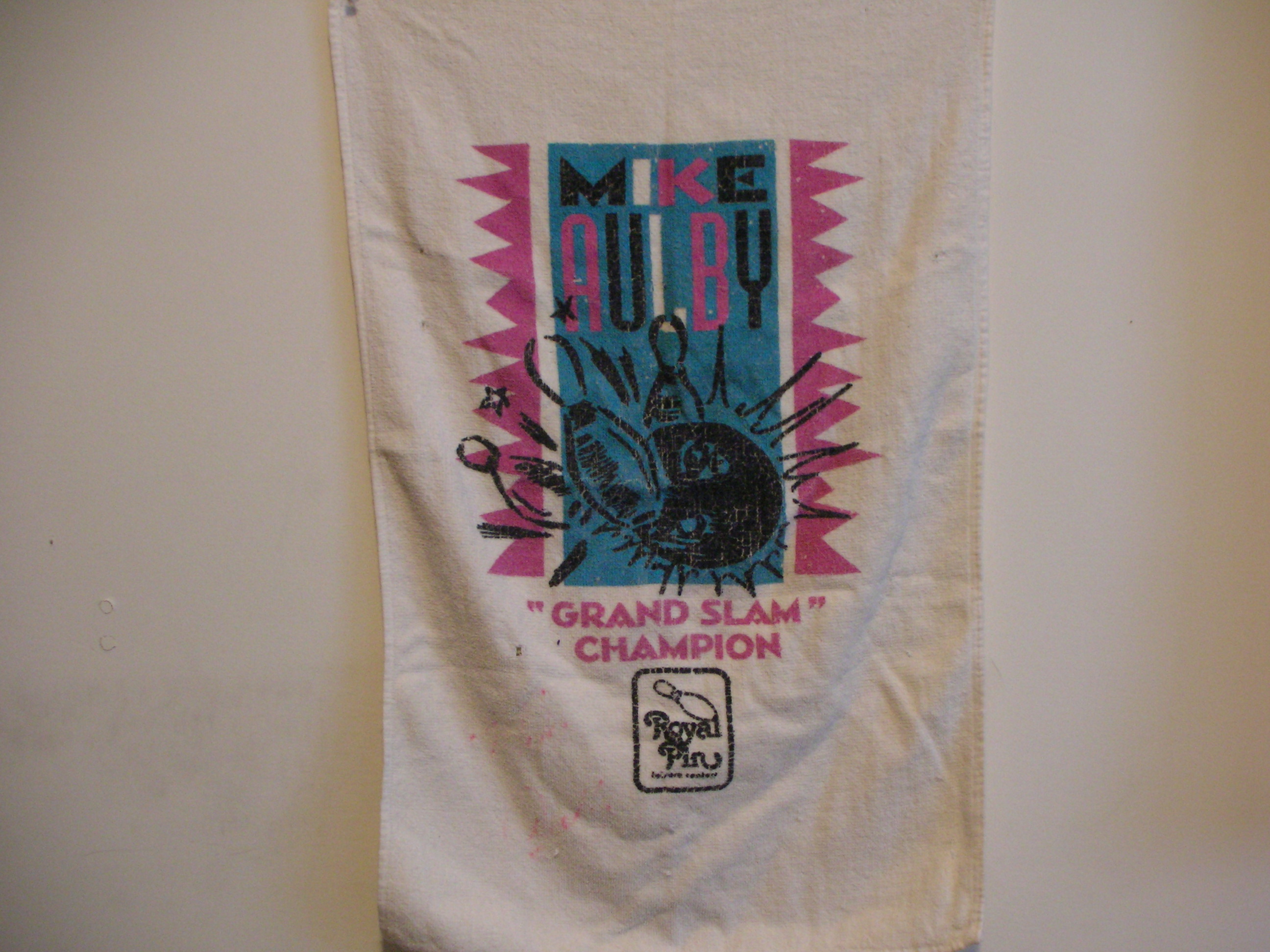 1996: I got to meet the PBA commissioner Mark Gerberich. I watched Parker Bohn III win the regional and he gave me his trophy that he won. I went to Erie, PA to watch the T.V. finals and saw Bob Learn Jr., bowl a three-hundred on national T.V. He shot the highest for game record but the top five shot highest on the T.V show. All 5 bowlers were bowling and it was the highest average of all time in T.V. show. The bowlers averaged 276.50 in four matches. Bob Learn Jr. averaged 282.25. I went and saw Marshall Holman at Detroit Michigan where he won his last title and I gave him a hug and I was on T.V. at the end. My Father won a U.S. open amateur spot for the '96 U.S. open. The significant thing about that tournament was the fact that both the men and the women had the same U.S. open at the same center in the same week. My Dad won the amateur part of the U.S. open. I won the Rochester division four Young American Bowling Alliance (YABA) all-events title.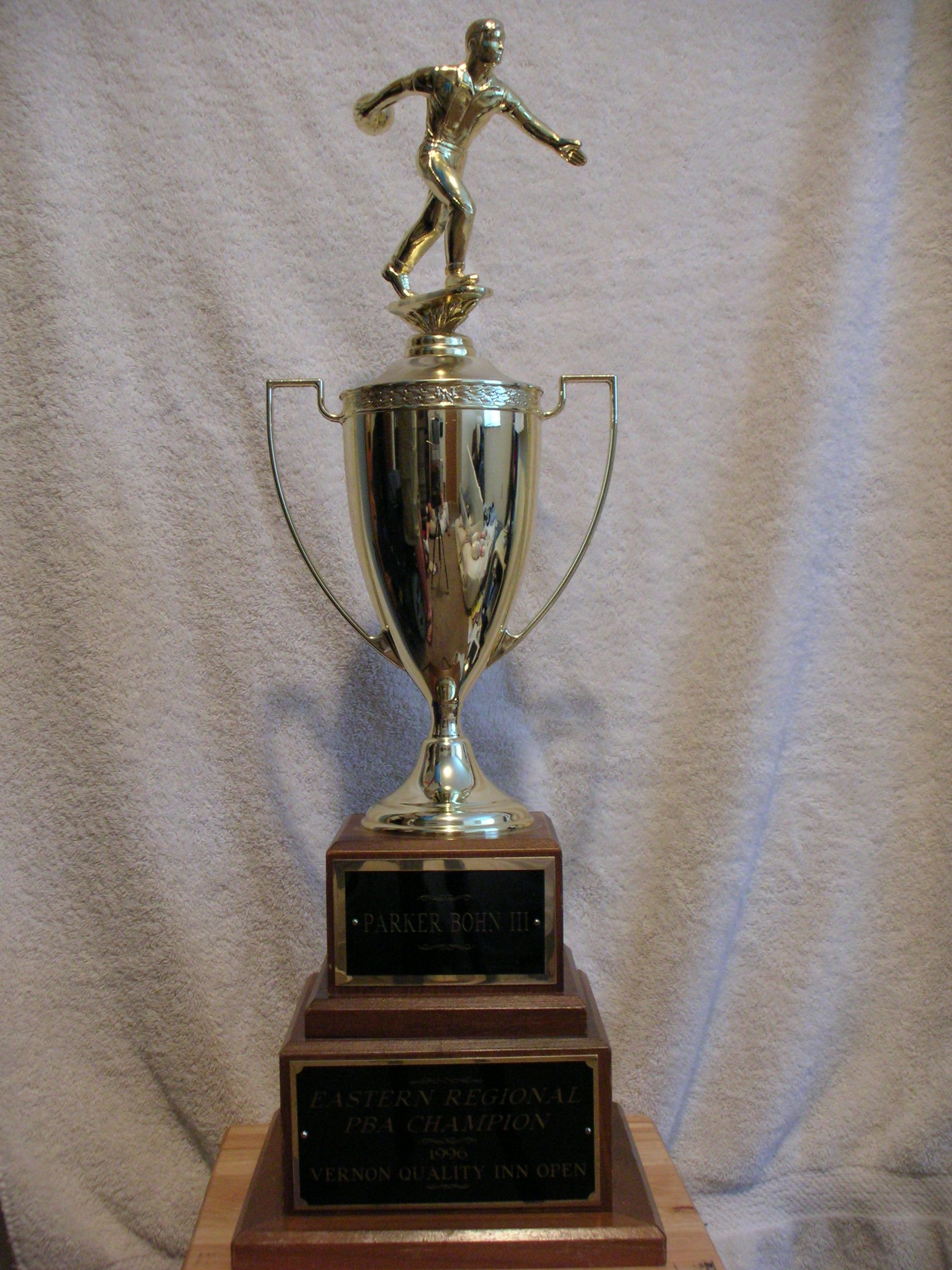 1997: I went to the PBA National championship over Easter weekend. Scores were exceptionally low that year. I went to the PBA tournament in Taylor, Michigan. That summer Mike Aulby wrote a book about his accomplishments and I was in the book. In my last year of junior league, my team and I won the league championship and the "roll-off." I also went to St Louis to see the National Bowling Hall of Fame and Museum. The tournament near St Louis was exceptional low also.
1998: I went to Lady Lake Florida to watch the Brunswick Skins game between Mike Aulby, Parker Bohn III, Randy Pedersen and Walter Ray Williams Jr. I also went to Akron, Ohio for the Touring Players Championship and I got to show my game to the PBA and Brunswick. This was the first year the Touring Players Championship used a gold bowling pin on national television. I was fortunate enough to obtain two of these gold pins. This was the first time I was in attendance and saw Parker Bohn III win a title. This year was the first time I had to opportunity to attend the BPAA Expo. I also had a pro-am in my home town, Warsaw, IN., where Mike Aulby, Barker Bohn III, Jason Couch, Doug Kent, Mike Miller and Curtin Odom did the benefit for me. I also went to Brunswick Corp to show them my board game. They gave me a tour of how a bowling ball was manufactured.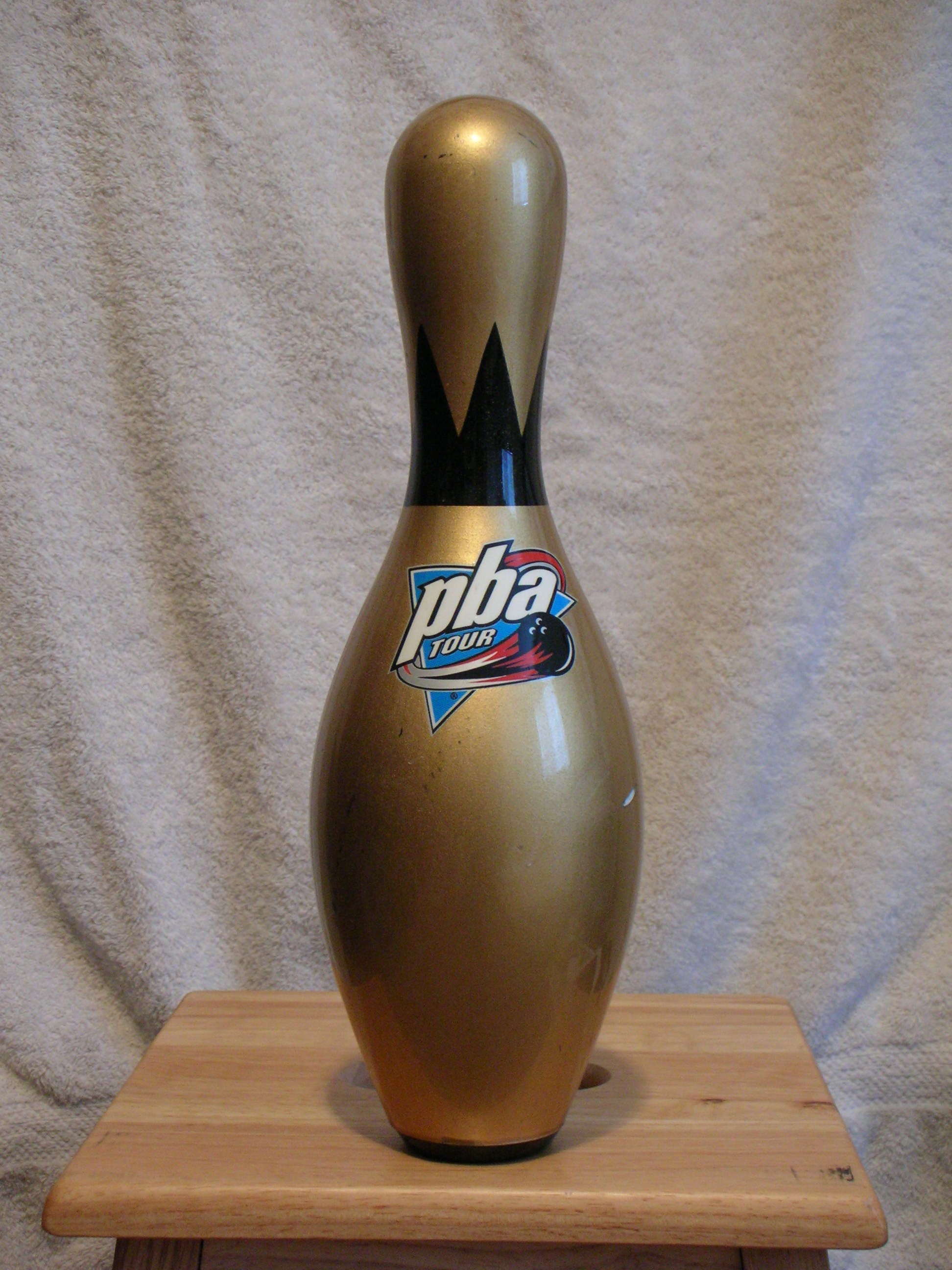 1999: I started to run my own bowling tournament and did pretty good at the tournaments. It was the first year I kept every round of the PBA Tournaments in a binder, so I could keep track of my favorite bowlers. I was also the manager of the high school bowling team, and ran the try outs to see who made the bowling teams. I went to Erie, Pa where I saw Chris Barnes win his first PBA title. I also went to see Parker Bohn III win a regional for the second time. The same year I went to see him where he beat Walter Ray Williams, Jr for his fifth title of that year, which clinched his first player of the year title. I took the Warsaw Bowling Team down to Indianapolis where they had a chance to bowl the Pro-Am and eat dinner with Parker Bohn III. I had an article written about me dealing with the Warsaw Bowling Team and the author talked about what a good opportunity the kids had and how well I did with the team at the Pro-Am in Indy.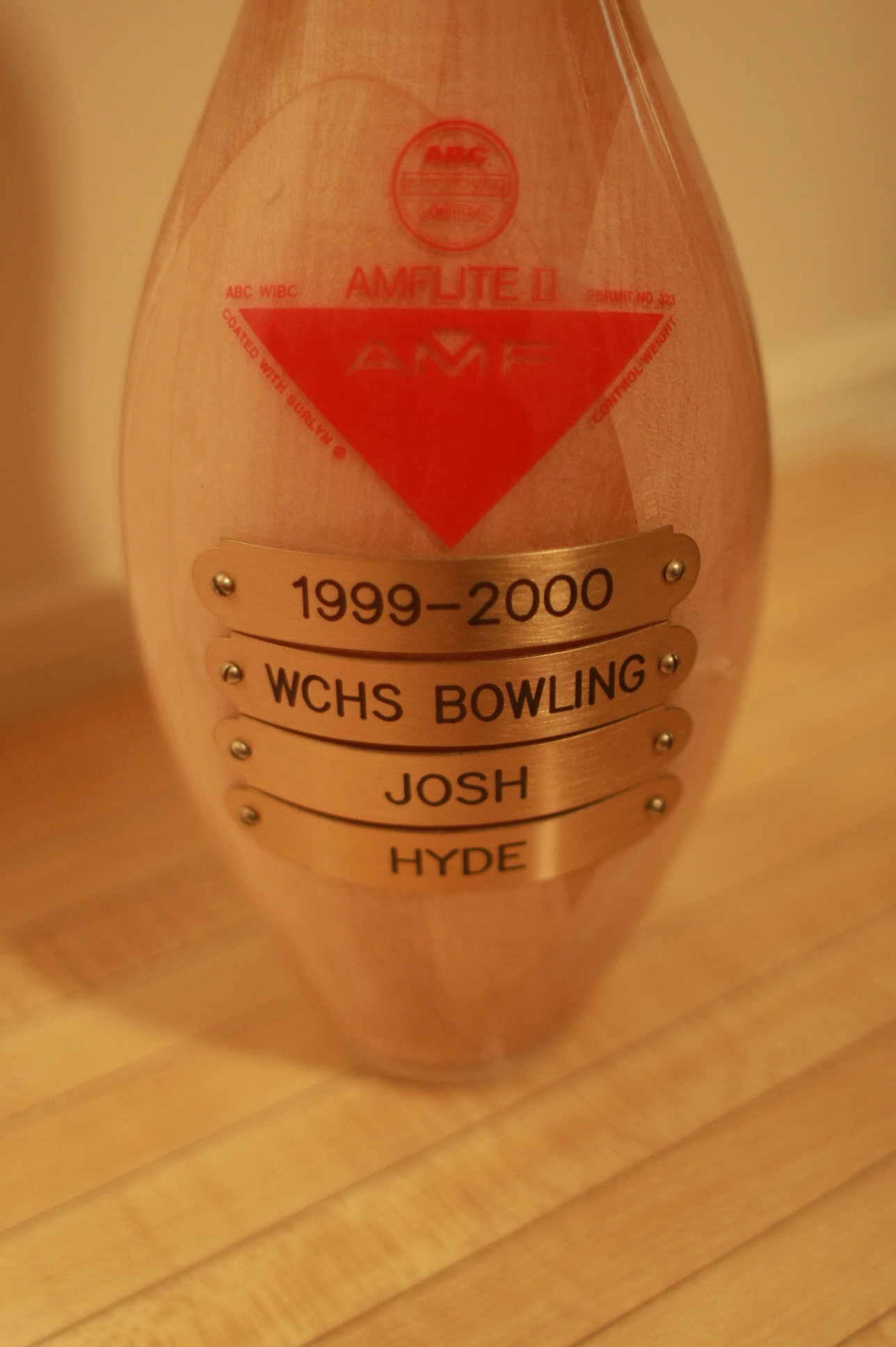 2000: I went to the PBA Awards Dinner where I got to see Parker Bohn III accept the "Player Of The Year", "Points Leader", and the "High Average" awards. I got to meet Drew Carey at the Touring Players Championship where he was doing a bowling expedition for charity. I also got to meet Chris Peters who was in the process of buying The Professional Bowlers Association. My high school bowling team got to go to the state championship, it was a great experience. Brunswick joined TBT as a major sponsor for these tournaments that I was running. I also got to go to the PBA Hall of Fame Banquet, where Parker Bohn III received his award for being inducted into the PBA Hall of Fame. This was a great year for me as I graduated from high school and to my surprise Parker Bohn III attended my graduation and came to the open house afterwards. Mike Aulby was also present at the open house. This same year I went to see Jason Couch win his second consecutive Tournament of Champions. I had the opportunity to show the PBA Tour Gear my invented game of "Survive the Tour".
2001: At the PBA Nationals Championship I got to be on the news story. They wanted somebody from out of the state to say something on the local news station, and the PBA said I was the perfect canidate. Same year same tournament, I asked PBA President, Steve Miller, if I could become a PBA member, and he said yes. I also got an award for running the best tournament in Indiana. I got a story on PBA.com about me being a PBA superfan. I bowled in a ProAm hosted by Classic Products Trade Show and I got to bowl with Parker Bohn III. I did a website called PBASuperFan.com.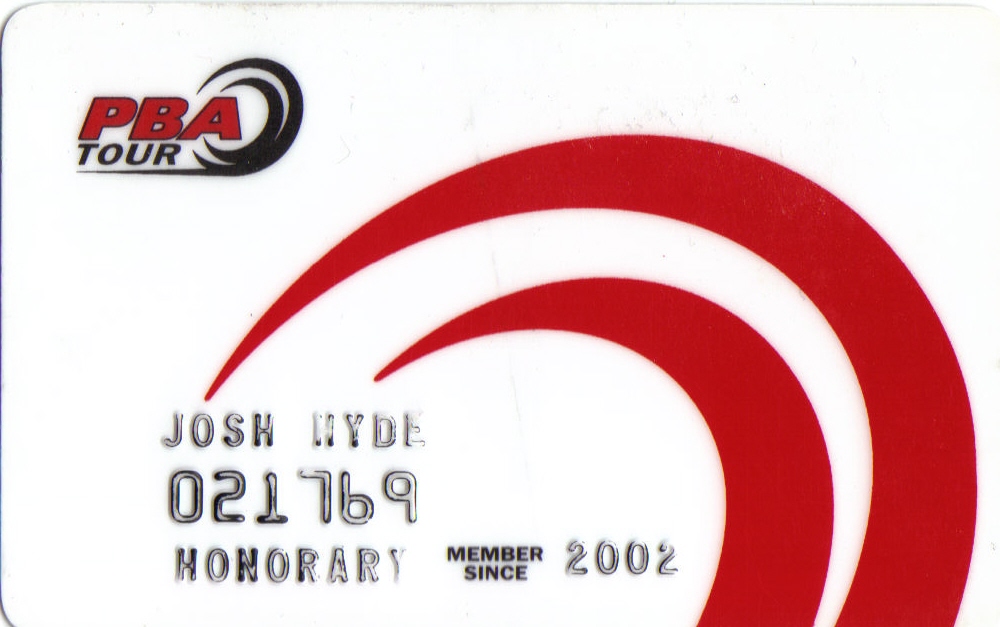 2002: I went to the PBA World Championship, where Doug Kent made the most money in one tournament in bowling history, $120,000. I showed my game to PBA Chairman, Chris Peters, he liked it. I went to the Classic Products Trade Show where I got to see my friend Parker Bohn again and many others, like Mike Aulby.
2003: I went and took a bowling class on how to coach bowling. I got the latest book from Fred Borden and Jerry Edwards for free.
2004: Started to run the TBT Brunswick Tournament on a monthly basis. I went to a PBA Tournament, I had not been to in two years, it was held in Indianapolis. It was a record crowd at the bowling center for the TV show. I also went to the tour trials where the scores were sky high. I did a website for my tournament and was able to get Mike Aulby to sponsor two of the eight months of the season. When I went to Indy that year I got a bowling ball off of the PBA truck where the pros get their balls. Started bowling on a league in the fall of 2004 again, it had been seven years since I had gotten to do that. I got back into bowling heavy in 2004.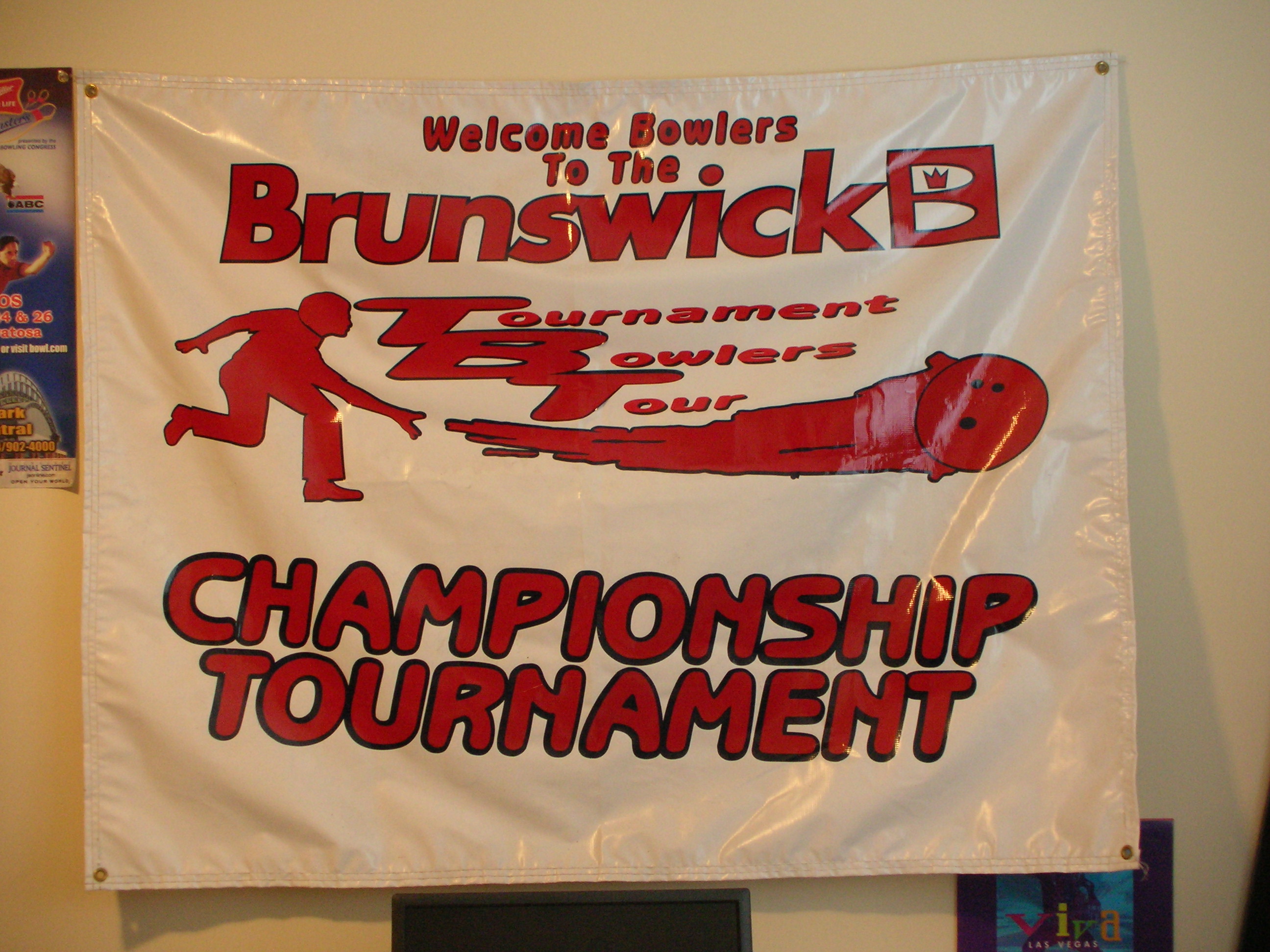 2005: I went and saw Mika Koivuniemi in Indianapolis win his 6th Denny's PBA tour title. I also went to the 2005 PBA tour trials, scores were much lower than in 2004. I got to have a PBA trivia booth were I raised money for Cardinal center. I raised $77 for 4 hours, for answering PBA trivia questions. I bowled in the Georgetown ProAm for the PBA regional. I bowled really well, beat my pros with my handicap. I got my second story on PBA.com. You can click on it here. I went to the bowlers paradise.com classic where I saw Pete Weber win and it was so great to see him win after his father Dick die. I got a ball from brunswick, that was neat.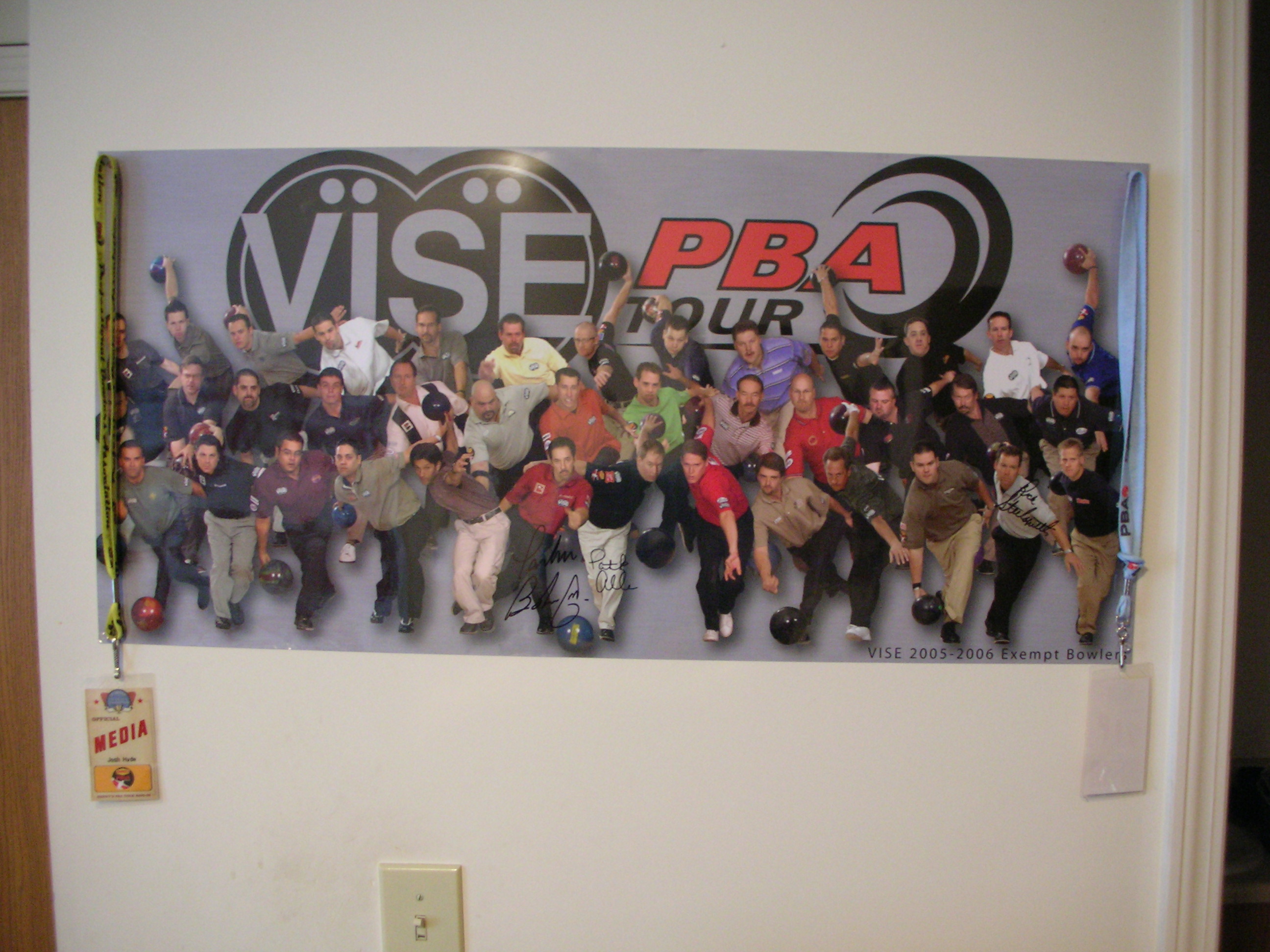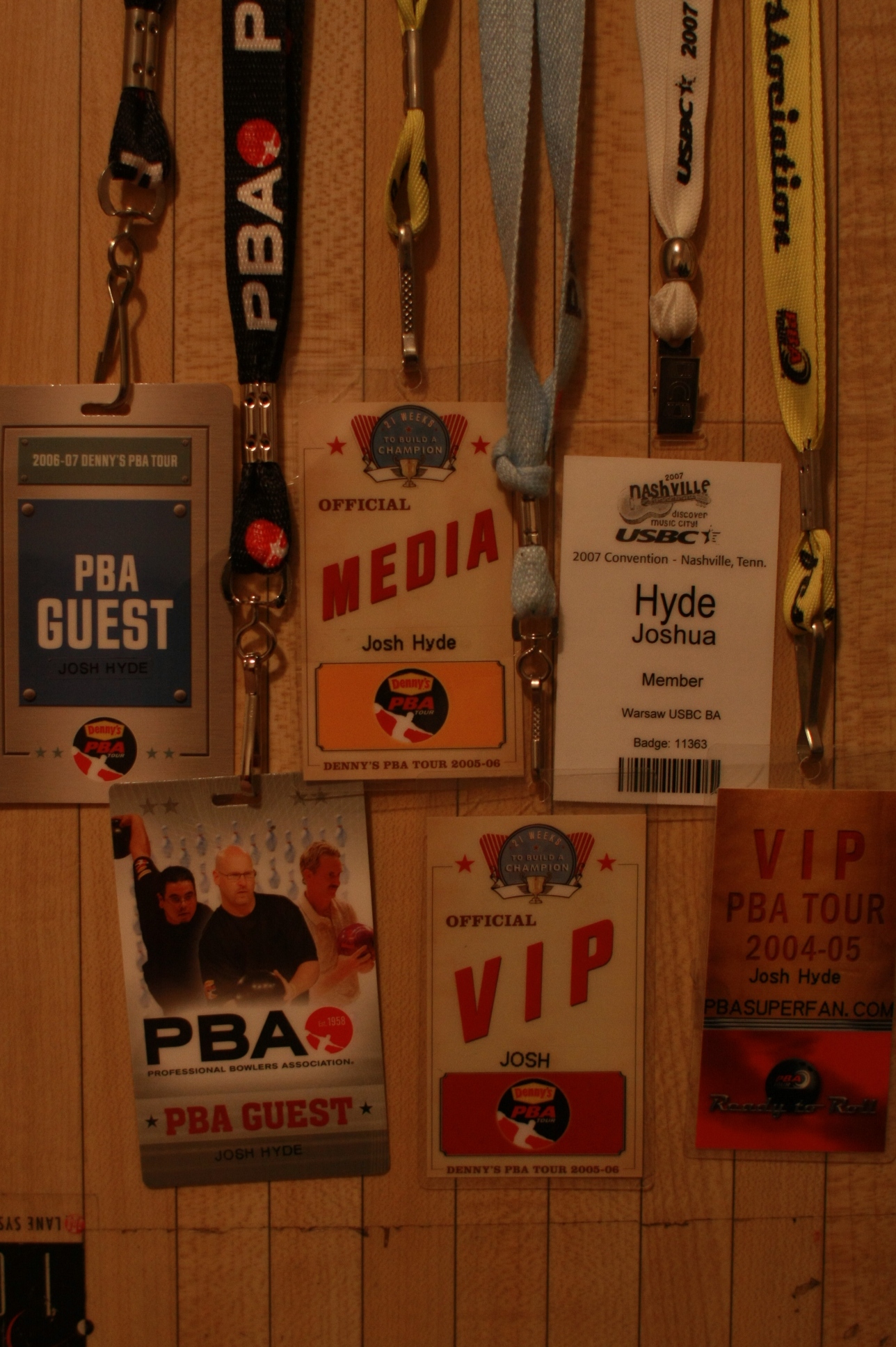 2006: I went to the PBA World Championship where Walter Ray Williams Jr. tied Earl Anthony's career wins record! When I was at the World Championships I got to interview the commissioner of the PBA, Fred Scheyer, and also the chairman of the PBA, Chris Peters. While I was there I bowled in the PBA World Championship Pro-Am. I was asked to write about the PBA World Championship for a bowling magazine, even though it has not been published. I also bowled a 269, my highest score of all-time!!! I also bowled in the Georgetown Pro-Am in Ft. Wayne, IN. When I was at Hammond, IN for the Lake County Classic I had the opportunity to interview Parker Bohn, Walter Ray, and a great number of other amazing bowlers, you can see these on a monthly basis in my interviews section. Also while in Hammond I got to see the closest championship game I have ever seen, Norm Duke beat Mika by 3 pins.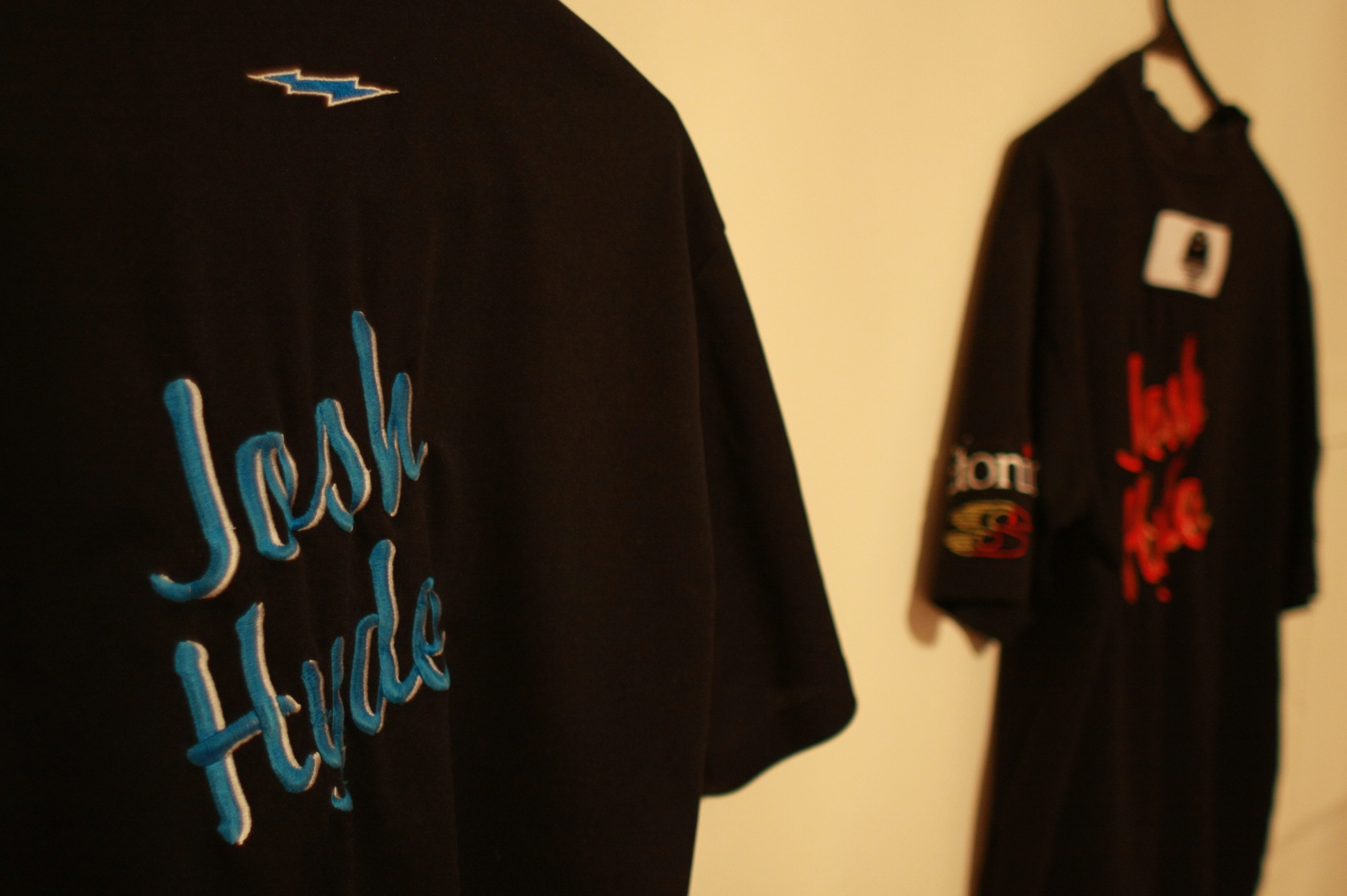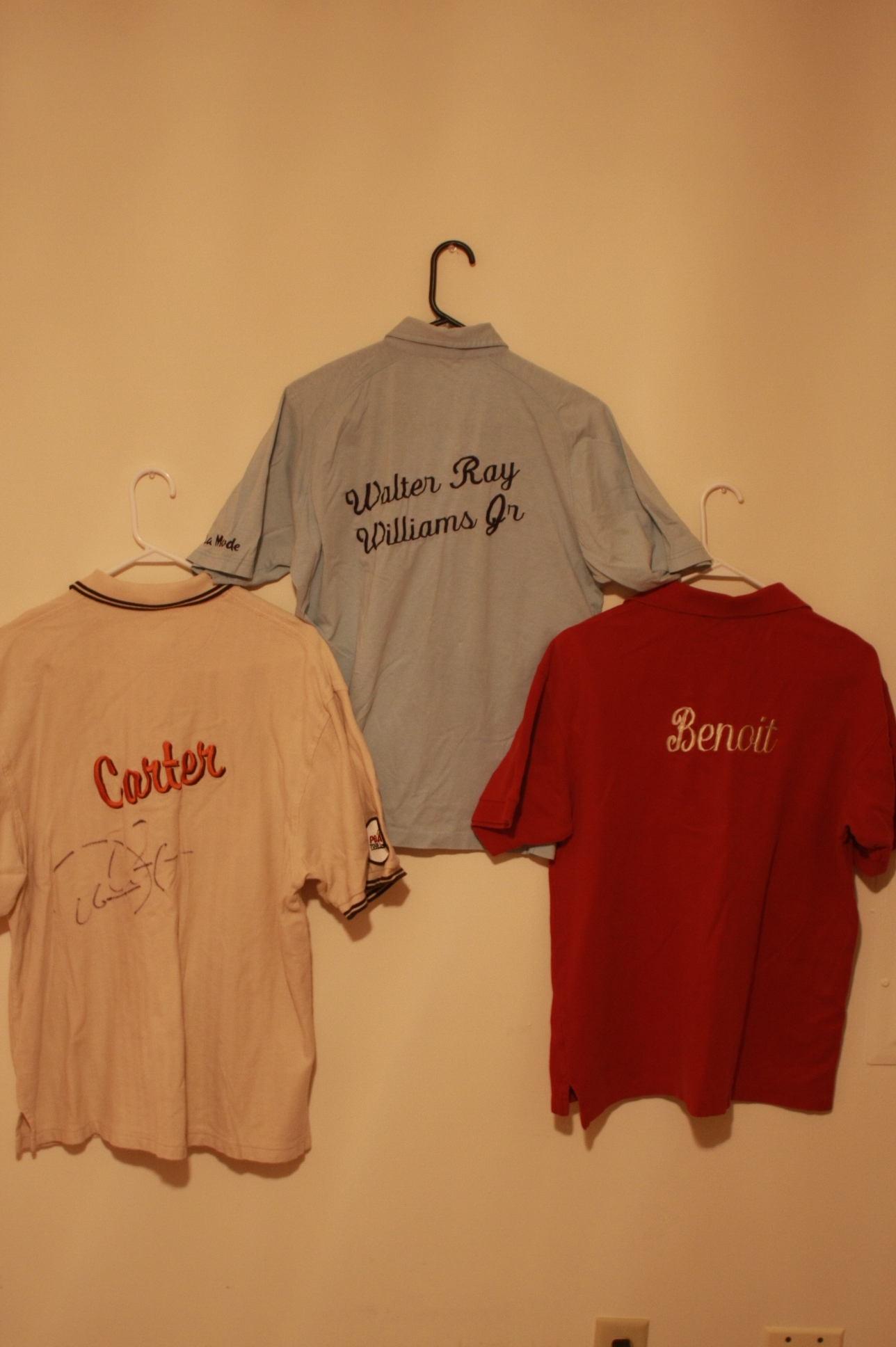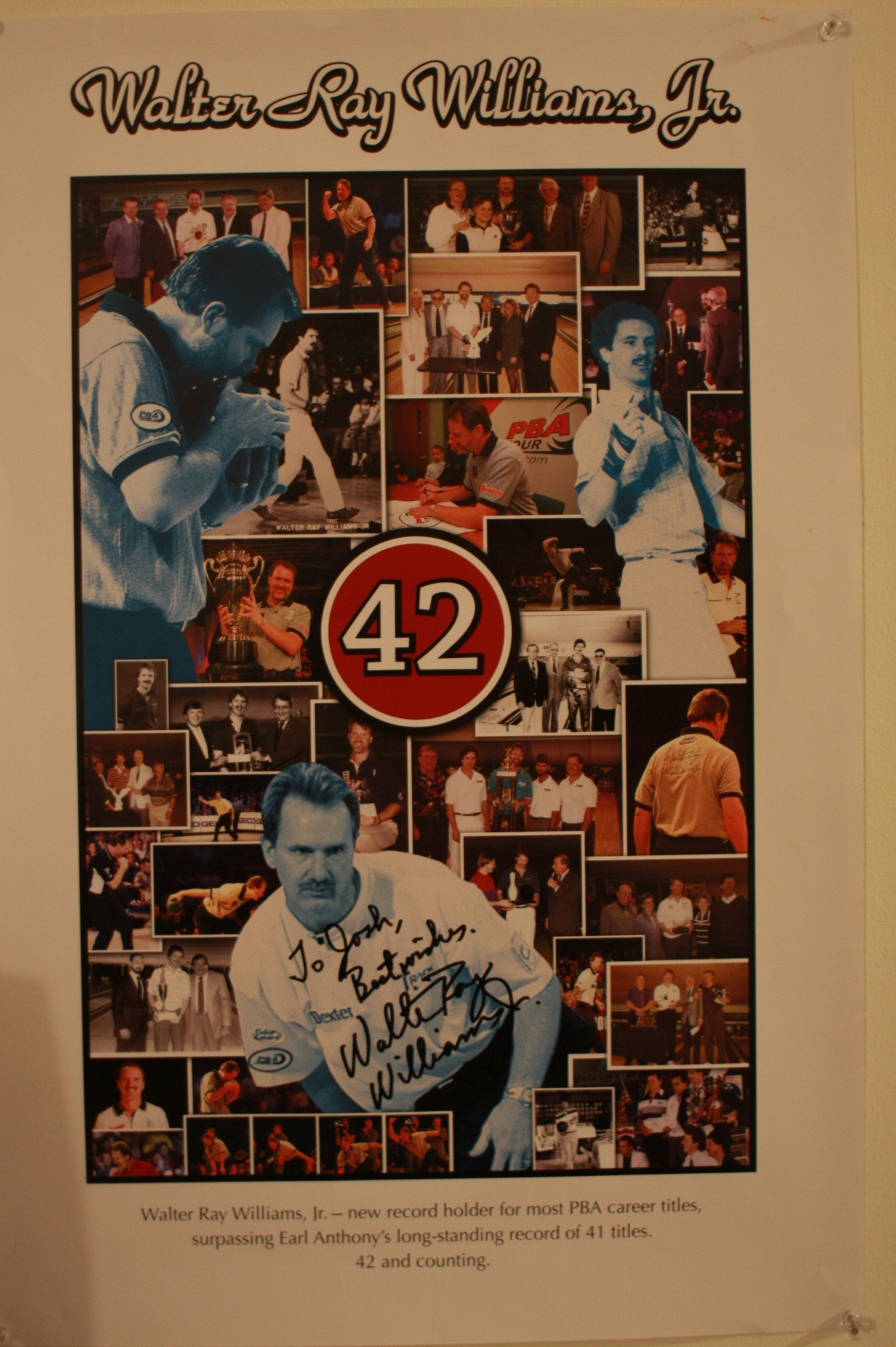 2007: I went to the PBA World Championship in Grand Rapids Michigan. I also went to the 2007 USBC Convention where I've got to witness USBC Hall of Fame Induction where Gordon Vadikin was inducted. There at the convention I got to talk about ramp bowling. Shot my first 600 with 220, 199, and 181. I bowled in the Ft. Wayne Regional where I got to bowl with Ted Hannahs, Brian Himmler, and Guppy Troup. I shot my second 600 which was the 640 with games of 234, 203, and 203 in the 234 game. I had the front six strikes in a row. I went to the 2007 USBC Masters.
2008: This year I started to average an above 200 pin game. I also came close at beating my personal best of 269. I went to the 2008 PBA Denny's World Championship in Indianapolis Feb 22 and 24 where Norm Duke won his second World Championship. I also got Carmen Salvino's shirt which he wore during the Championship. For the 2008-09 season, I saw Walter Ray Jr. win his 45th title at the Golden Aniversary Championship. I also saw Ted Hannahs win a title at the Fort Wayne Regional Tournament. Starting in 2008-09, I now have a Media Pass for the Tour because of the new "Josh Hyde's Bowling Newsletter" which I start. This is a monthly newsletter with current PBA news, interviews with PBA member, analysis of tournaments the newsletter has attened, a moment in PBA history, and an opinion of the current state of the PBA. To end the year, I have 70 subscribers which includes many PBA bowlers. I bowled my first 700 series with a 725 (268-247-210). At the Golden Aniversary Championship Pro-AM, I had the opportunity to bowl with Jason Couch, Jeff Carter, Pete Weber, Danny Wiseman, and Tommy Delutz Jr.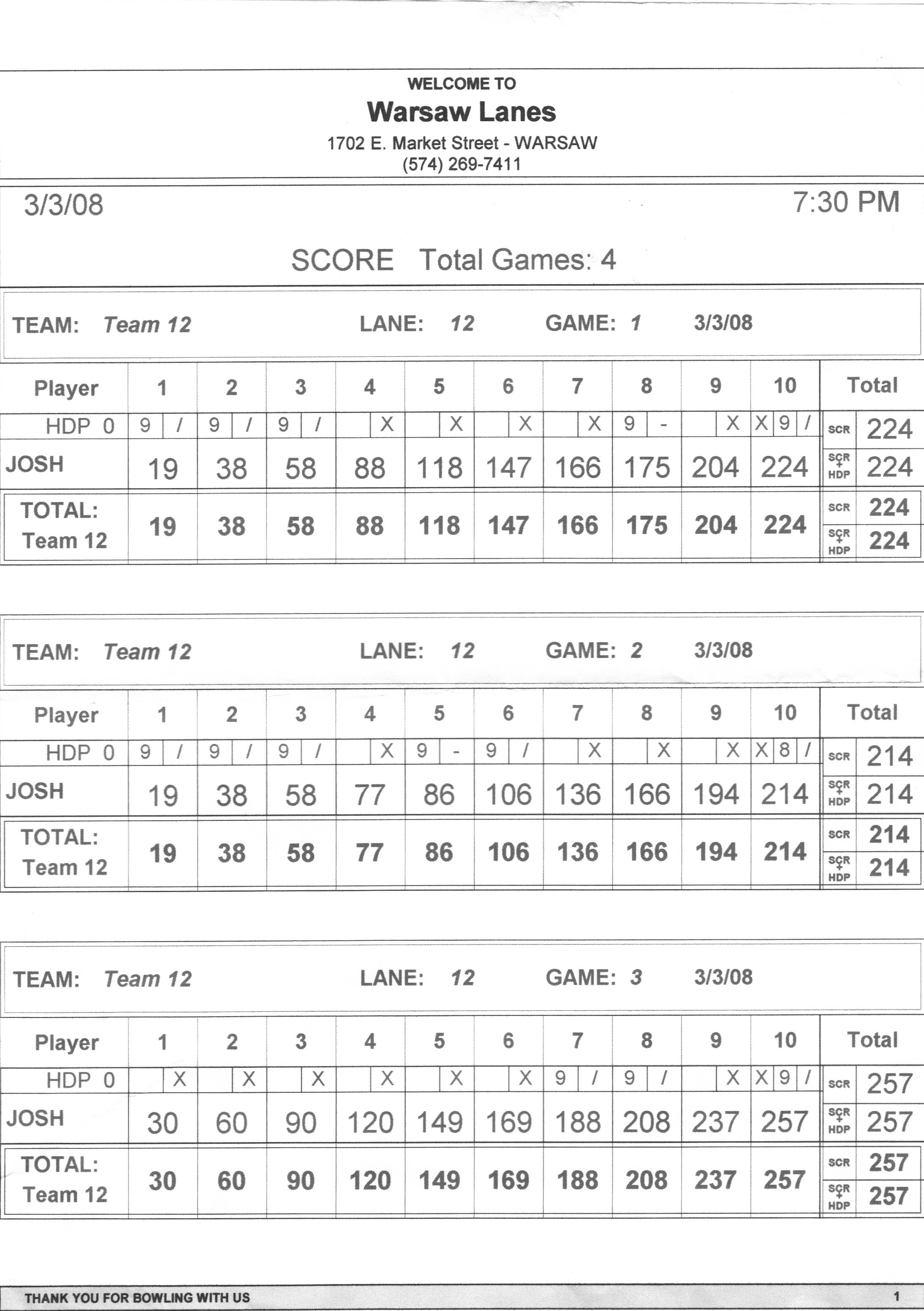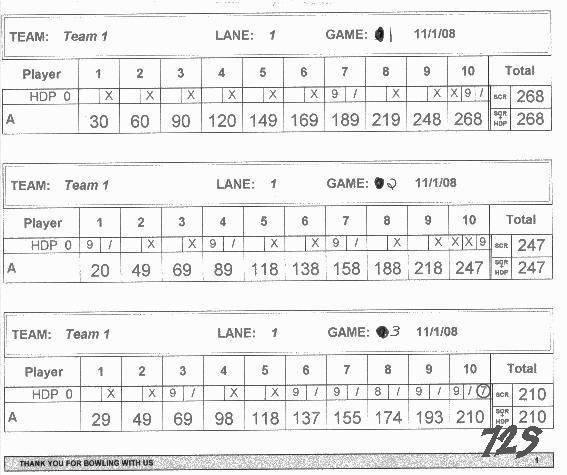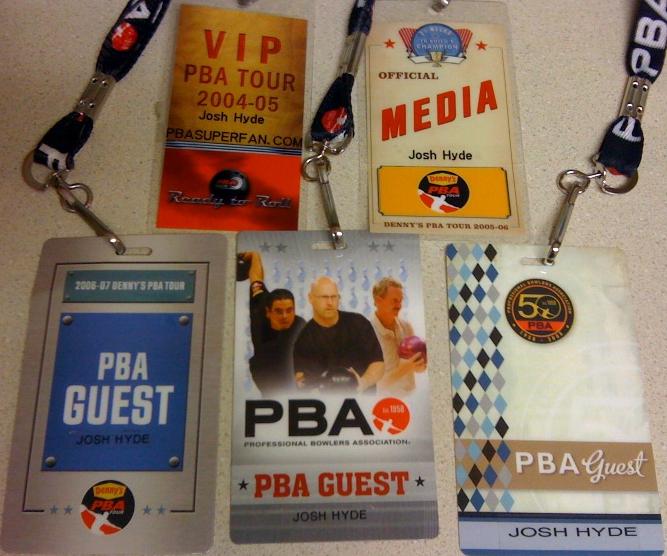 2009: I finished my first league season with a 170 average. It's been 11 years since this has happened! I was a guest pro at a kids camp where I did a trick shot. At the camp, I signed pins for the kids and gave five PBA yearbooks that had Chris Barnes, Norm Duke, and Rhino Page. They each signed the yearbook and I gave them out to the older kids. The younger kids got the bowling pins signed by me. I attempted the trick shot but I did not convert the 1-7-10. I also did an exhibition match with Riga Kalfas at the Fort Wayne Regional. I went to my first PBA tournament as a journalist at the Etonic Marathon Open, where I received a Media Credential. I interviewed the legend Carmen Salvino. I bowled another 268 game. I also interviewed Mike Aulby and the player of the year, Wes Malott. I bowled a 237-game on the Viper pattern. Also, I received a sponsor to do a trivia for my newsletter, which had ended up with 117 subscribers. Also, I had a phone conference with Wes Malott after he dominated the title of "King of Bowling." I had the opportunity to be the author of a column in American Bowler. At the Fort Wayne Regional, I won a Mark Roth viz-a ball, and the tickets were $5; the ball usually goes for $150. Likewise, I acquired the "50 Greatest" book, which some of the players autographed. My team finished second in the handicapped division in the city tournament.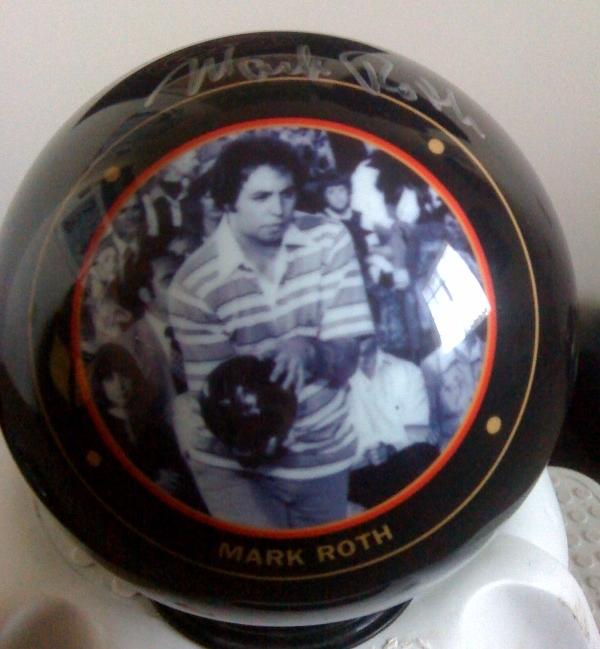 2010: 2010 was a very inspirational year for me in bowling. A number of exciting things happened for me. First, I was able to bowl well and finish second at a local handicap championship tournament. A little over an hour away from my home, there was a local handicap tournament that has points for how you do in each tournament. At the end of the year if you qualify for the championship tournament, you get to bowl in the final tournament. At the last regular tournament, I ended up in fourth place and made the championship tournament. I ended up qualifying second. The match play portion was two game matches. In match play, I made it to the championship match. There, my opponent shot 299 and 225 against me. I lost by only five pins. Second, I won third place in the national BWAA amateur writing contest. The Bowling Writer's Association of America posted an amateur writing contest, and I decided to submit a few articles. I placed third for the article I submitted about the World Series of Bowling. Third, at the 2010 Shootout at the Fort, the American Bowler was there. They asked me to report on the regional later that summer at Georgetown Bowl. They paid for my Pro-Am spot; however, the Pro-Am did not take place. Instead they gave me money for a printer and told me if I wrote for them they would buy my ink. When I reported on the regional, I still was able to bowl with three professionals. They all bowled on the ramp and I beat them all. Fourth, I got to go to my twenty-fourth major tournament which was the sixty-seventh U.S. Open. I received the banner from the scoreboard that was on the television show.
Last but not least, I became the beat writer for the King of the Hill Tournament, getting to write reports and doing statistics. Of all places, I met Arnie Goldman, who was a professional bowler from the mid-70s to 1987. He beat Pete Weber in Weber's first television appearance.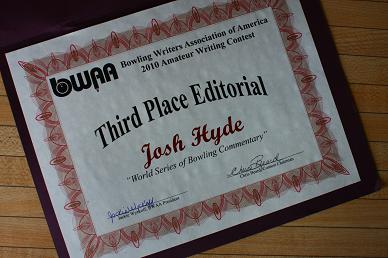 2011: The 2011 year went well for me. I started out writing about an area tournament that is held approximately one hour away from me. I had intended to add it to the Josh Hyde Bowling Newsletter as a column. I received 3rd place for my feature article that I submitted for the Bowling Writers' Association of America writing contest. I attended my 100th PBA tournament, the Fort Wayne Regional.
Johnny Petraglia came to Warsaw, IN, when one of the local bowling alleys reopened for the installation of a new lane surface—Brunswick Anvilane. I was invited to the Classic Trade Show at Pro Bowl West in Fort Wayne, IN. There, I sat and talked with Norm Duke about his views on the major tournaments. Brunswick furnished me with a new Brunswick bowling bag. Upon receiving the bag, I decided to recognize Brunswick by incorporating them in my newsletter. As a result, I started a new column titled "Balls of the Lanes" in which I summarize the characteristics of new Brunswick bowling balls. Another column that I introduced was "Bowlology". In this column, I share my bowling knowledge. I had my difficulties in the Classic Tournament in Huntington, IN; however, I did learn what I needed to do to improve my game. I went to the inaugural Dick Weber PBA Playoff Tournament where I was caught on TV. Some of the pro bowlers in attendance were: Mika Koivuniemi, Bill O'Neill, Chris Barnes, Jason Couch, Tommy Jones, and Rhino Page.
At the Fort Wayne Regional Tournament, I got to interview several pros: Judy Soutar, Mitch Beasley, Derek Sapp, Guppy Troup, and Ron Mohr. I also created a mission and vision statement for my newsletter. Additionally, I decided to name the last page of my newsletter the "Tenth Frame". This column is a commentary or an editorial on what is happening on the PBA Tour. I share my point of view on recent professional bowling news.
All in all, this was a great year!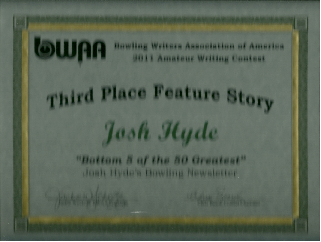 2012:This past year, I went to my 101st PBA tournament at the Dick Weber PBA Playoffs. While there, I discovered that my book Bowling From Another View could be published. In order to do that, I had to write four stories for the American Bowler newspaper. I was also able to promote my newsletter at the Classic Expo Trade Show. At the end of the day, Parker welcomed me to the bowling industry. I felt like I was a part of the bigger picture of bowling. I ended up getting 22 subscriptions to my newsletter. Bowling From Another View was published. Both Mike Aulby and Parker Bohn III wrote comments on the back of my book. I was also blessed to do a book signing in Wabash, Indiana, where I discussed my bowling game with high school seniors. I was able to sell 5 books there. Furthermore, I did a bowling ball raffle for the Humane Shelter raising $487.00. I was fortunate enough to shoot my high game of 277 on the Chameleon pattern. I also shot my second 700 series— 702. I was a able to do well on all of the PBA patterns. I added a few columns to the newsletter. I had started the Bowlology section in late 2011 where I talk about my knowledge of the sport of bowling. This allowed me to get my certificate of completion for the bronze, silver, and gold coaching for USBC. On my first exam, I got 22/25 questions right dealing with components of a bowling ball dynamics. I also won in the editorial division of the Bowling Writers' Association of America within the Amateur Writers' competition. Parker accepted my award in Reno, Nevada, for me. I also figured out how I can make my ten pin and started to make more of them. For the first time, I did a special edition of my newsletter. I talked about the 300s on the PBA tour. In the "Spare Column" I am writing about the PBA Central Region. I also came up with the "In the Pocket" column. It is a condensed version of top 10s that make up some of the greatest moments in the history of the PBA or Bowling. I also witnessed Pete Weber win his 5th U.S. Open. It was the most exciting tournament I have seen in a long time. He needed a strike on the last ball to win by one pin. Pro bowling cannot get any better than that. I also came up with a column called "Breakpoint." This column is about breaking news in the bowling world.
Yes, 2012 was, indeed, a big year!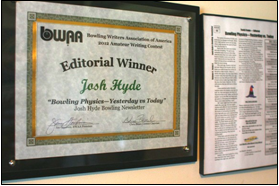 2013:
2013 was a great year for me. I had the opportunity to write an article for Bowlers Journal International. They graciously allowed me to select a topic to write about. One of the players that was going to get inducted into the PBA Hall of Fame bowled in my Pro-Am 15 years ago—Doug Kent. I only thought it was appropriate to write an article about his career highlights. I also was able to go to the Tournament of Champions. This was the 25th major tournament that I had attended. A big thrill for me was to bowl in the TOC Pro-Am where I bowled alongside Doug Kent, Pete Weber, Scott Norton and Mike Devanney. Another highlight for me was attending my second PBA Hall of Fame induction ceremony. I was fortunate to get a picture with Doug Kent and Danny Wiseman, the two 2013 Hall of Fame inductees. This picture appeared on pba.com. For the newletter, I introduced a new column called "Off the Sheet". It is a column devoted to Bowlers Journal International. This is a summary of an article in Bowlers Journal International with my thoughts. I also introduced the column "In the Pocket" which lists top 10 of great PBA / bowling moments. If I may say so, I did very well in the International Bowling Media Association Amateur Writing Contest by capturing the top prize in both the Editorial and Newsletter divisions. I received third place in the Editorial Division as well. I also wrote on a few amateur tournaments and published them on my web page. I did my first Media Guide on the PBA Tour. It was a lot of fun—approximately 200 pages worth. I love my job! All in all, it was a great year.